Culford School Nearly New Shop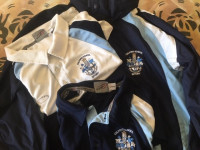 The Culford School Nearly New shop is run by Top Spin Tennis from their base at Culford School. All the items we currently have are listed below - if the size drop down says "In Stock", then we have that item available to purchase. If, on the other hand it says "Available to Order", unfortunately we do not currently have that item in that size.
If you would like to purchase any item, you can do so on the web site and we will charge your credit card and get the item ready for collection in the shop or to post out to you. You can also purchase directly from the shop - items cannot be added to the school bill however, so payment will have to be by cash or card. The prices have been agreed with the school and represent approximately 60% off the current new purchase price.
If you would like to donate any items, please drop them into the shop - please make sure all items are clean and in good condition for resale - we will not accept certain items (such as socks, swim wear, underwear etc for hygene reasons). The school invites you to leave your name when you donate so they can send you a thank you. All profits from the sale of items will go to the school's charity.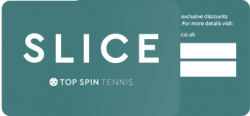 Slice Loyalty Card
5% Credit on Every Sale*
Every 6th Restring £15 off
S i g n U p I n S t o r e T o d a y !
*Excludes demos, shuttlecocks & postage