Cookie Policy
Top Spin Tennis is committed to protecting your privacy. We only use Strictly Necessary cookies on our website to enable visitors to have the best possible experience. This cookies policy tells you more about our use of cookies and the choices you have. The table below provides further details about the cookies which are currently in use on our websites and a description of the purpose of each of these cookies.
What are Cookies?
Cookies are small files that websites place on your computer, mobile phone, tablet or other device. They remember that you have visited the website before. They make it easier for you to maintain your preferences and they enable certain features of the website to work, such as the shopping basket.
Strictly Necessary Cookies
We only use this type of cookie. They perform a variety of functions, such as keeping a visitor logged in to their account or retaining items in the shopping basket.
How can I manage or remove Cookies?
Only strictly necessary session cookies are active on our site, as this is necessary for the operations of the website. They are automatically deleted when the visitor closes their browser window.
If you want to, you can manage or disable cookies from your browser and delete all cookies that are stored on your device. You can do this as often you want to. To find out how to do this for your particular browser you can go to "help" on your browser's menu or you can visit http://www.allaboutcookies.org/
What happens if I choose to disable the Cookies?
You need to be aware that if you choose to disable cookies from your browser it may prevent you from taking full advantage of the Top Spin Tennis website, some functions may not work (product searching for instance) and you may not get the best user experience.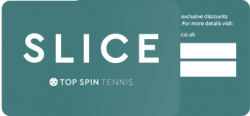 Slice Loyalty Card
5% Credit on Every Sale*
Every 6th Restring £15 off
S i g n U p I n S t o r e T o d a y !
*Excludes demos, shuttlecocks & postage

Sign up to our newsletter and keep up with our amazing regular offers
By signing up you have read and agree to the terms & conditions and the Top Spin Tennis privacy policy.
Copyright ©2021 Top Spin Tennis. Trademarks and brands are the property of their respective owners.
Use of this website constitutes acceptance of the Top Spin Tennis privacy policy.