Cambridgeshire LTA

The Cambridgeshire County Tennis kit is available to order!
Anyone who represents the county from young to 'not so young' can purchase the county kit which has been subsidised by sponsorship from Cambs LTA and Top Spin Tennis..
The kit is custom made to order to the county's design and there is therefore a 6 week lead time between us ordering and delivery. We will be grouping orders together and ordering once per month. You can have the items posted to you or collected from one of the Top Spin Tennis shops.
NOTE: *** We try and hold stock of all sizes in the jackets, so these should be immediately available ***
For details of the sizing, there are two charts - go to https://www.topspintennis.co.uk/Advice.html and scroll down the page to the "Clothing Size Charts" area. We recommend you trying somebody else's kit before ordering as we are unable to exchange sizes because each item is made to order.
The next ordering cut-off date is: 22nd May 2022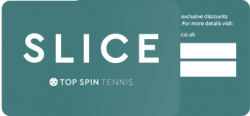 Slice Loyalty Card
5% Credit on Every Sale*
Every 6th Restring £15 off
S i g n U p I n S t o r e T o d a y !
*Excludes demos, shuttlecocks & postage