Team Top Spin Tennis
Team Top Spin Tennis is a group of players and coaches who are independent of Top Spin Tennis, but who work closely with us. We have an extensive coach's network – some working on their own and some in an academy set up. We also sponsor a few players – local people we have known for a long time who are passionate about becoming the best they can. Here at Top Spin Tennis, we love to see youngsters develop their skills and achieve their potential – especially when they do something great!
If you need any help or advice on selecting a new racket, and you are coached by any of Team Top Spin Tennis below, then just ask for their help – they will point you at our closest shop along with some guidance of what you need.
Top Spin Tennis is more than a shop – it's a community of players, coaches and staff.
Top Spin Tennis is very happy to work with Team Top Spin Tennis, Tennis Edge, EA Tennis, Cambridge Lawn Tennis Club, Easton Tennis Centre and Cocks & Hens Tennis Club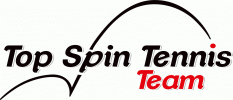 Team Top Spin Tennis
Joe Rolfe - Badminton Player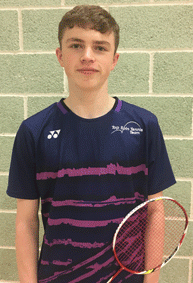 Hi I'm Joe. I've been playing badminton for around 6 years and am fortunate enough to play for Norfolk seniors. Thanks to the support of Top Spin Tennis, my coach Louise Culyer and my parents, I regularly play in Badminton England Competitions. This has earned me a rank of 45th in U19 men's singles and 27th in doubles at July 2017.
Away from badminton I like to spend time with my dogs Pepper the schnauzer and Roo the boxer. I am often found lazing around reading and I am a big fan of anything mathematical or scientific. Though generally I eat anything in front of me, my favourite food is a meatball and gnocchi bake. I have just finished my GCSEs and will be studying A levels in maths, further maths, chemistry and physics at Hills Road sixth form in Cambridge.
My hero is Usain Bolt, who fought hard to succeed against the odds, whilst also enjoying his sport and having a laugh.
Joe was the first member of Team TST, and has been putting in some great performances as he makes the difficult transition from junior to senior badminton!
Yujiro Onuma - Tennis Player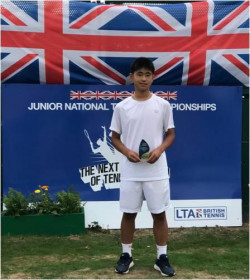 Hi, I'm Yujiro and I am 13 years old. I started playing tennis when I was 6 years old and I've loved it ever since . I like tennis as I love competing and playing in those tense moments .
This year I came second three times in the national finals and two national tournaments and was ranked second nationally in Under 12s . Currently I am 11th in 14u and I am hoping to improve my ranking as I get older and play more tournaments. In November I played for Cambridgeshire in an event called the 12 counties and I managed to win all my matches and our county came first.
I am supported by Wilson and Top Spin Tennis and I appreciate the support.
In my free time I enjoy playing the piano and reading books.
My favourite tennis player is Juan Martin del Porto as he has big ground strokes that overpower his opponents.
Harry Wakefield - Badminton Player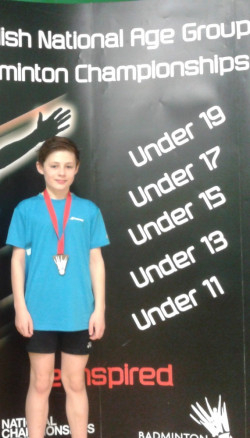 Hello I'm Harry, I started playing badminton when I was 4 years old with my grandad in the garden. I went to my first club aged 5 years and was selected for the Norfolk county u12 squad when I was 6 years old. I am now 12 years old and I really enjoy playing badminton. Last season I was selected to go to two England squad camps.
I won two Badminton England u13 Gold tournaments last season, (Lillishall mixed doubles and Guildford level doubles). I was runner up in the in the singles in the York Gold and took the bronze medal in the Hatfield u13 Gold star tournament.
In 2016 I won the bronze medal in the Badminton England u11 Nationals. In 2017 at the u13 Nationals I won the bronze medal in the mixed event with my partner Chloe Dennis from Suffolk, we defeated the number 2 pair in the country before losing to the number 1 pair in the country in the semi-final. During the 2016 – 2017 season I was only beaten in singles by the England no 1 and 2, I managed to defeat all the other players (u13).
I also enjoy cross country running, rugby, hockey and cricket. I live in Norfolk but go to school in Suffolk and have just been selected as Head boy in my last year of Prep school.
My favourite badminton players are Lin Dan and Chen long. I am really thankful that Top Spin Tennis and Babolat are going to support me, The new equipment is great.

Tennis Edge
clubspark.lta.org.uk/TennisEdge/
Chris Stocker -
Andy George -
Chris Evans -
Hugo Evoli -
Karen Highfield -
Sam Tyson -
James Mills -
Richard Bragg -
Teresa Catlin -
Charlotte Groves -
Kim Burgess -
Martin Smith -
Neil Plaskett -
Nicky Crawley -
Steve Breese -
Andy Lingley -
Chris Little -
Matt Taylor -